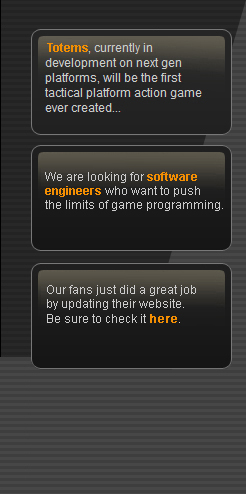 10TACLE STUDIOS Belgium is specialized in the development of games that bring a significant added value to the field of game-design.

Our focus is games that feature innovative and spectacular character behaviors and "never seen before" gaming moments.

In addition 10TACLE STUDIOS Belgium is developing "NeoReality", a cross-platform, multi-genre, current and next generation technology solution.

© 10TACLE STUDIOS Belgium (Elsewhere Entertainment SPRL), a division of 10TACLE STUDIOS AG.>>